Technology mix in perfection –
just one of our strengths
With more than 160 CNC processing machines we primarily manufacture midsize series up to fully automated large scales with daily volumes of more than 25.000 pieces.

Our particular strengths are complex turning-, drilling- and milling operations of all kinds of metallic materials with narrow tolerances up to the IT6 range. We manufacture our components in several value added stages with appropriate deburring (i.a. ECM).

In order to be able to offer our customers ready-to-install components, we have specialized in the pre-assembly and final assembly of medium complex assembly units more than 10 years ago. The associated processes are carried out by our handling- and automation department.

Since the cleanliness of our products plays an increasingly important role for our customers, we have also focused on provision and conformity with strict residual dirt specifications. We therefore, among other things, have the most advanced washing technology (also with high pressure) and appropriate equipment to determine residual dirt.
Our technologies used for your products
Turning & Milling
Materials:
free-cutting steels, case-hardening steels, tempering steels, high-grade stainless steels, light metal alloys, powder metal materials
---
Primary materials:
bar material, saw cuts, cold and hot forged parts, prototype parts, profiled materials, prehardened steels up to 42 HRC
---
Geometries:
Turning from diameter 6 mm to 200 mm (vertically and horizontally), Tipp lengths up to about 200 mm
CNC-lathes from single spindle to multispindle technology
Milling of cubic parts up to about 200mm x 200 x 200 mm
CNC-milling machines with 3 - 5 axes
---
Accuracies:
IT6 for length dimensions and diameters
Shape- and positional tolerances up to 10µm
Shape- and turning parts partially up to 5µm
---
Piece weights: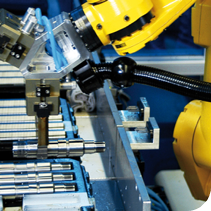 Deep hole drilling
Materials:
Free-cutting steels, tempering steels, light metals
---
Geometries:
Clamping diameter 10 – 30 mm
Bore diameter 3 – 10 mm
Drilling depth up to 350 mm
---
Accuracies:
Concentricity accuracies from 0,05 – 0,1 mm/100 length/li>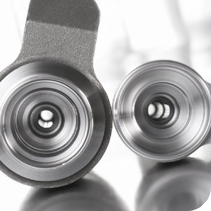 Grinding
Grinding processes:
Cylindrical-, excentric-, polygon and profile grinding
---
Geometries:
Diameter up to a maximum of 200 mm
Length up to a maximum of 500 mm
---
Accuracies:
Diameter IT5
RZ-value up to 2 µm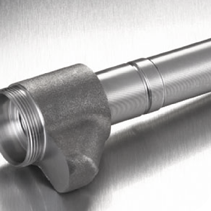 Deburring
Processes:
Electrochemical deburring (ECM)
Pulse-ECM
High-pressure deburring (HD)
Barrel finishing
Thermal deburring (TEM)
Integrated in the manufacturing process: brushing, high-pressure rinsing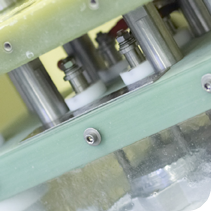 Cleaning
Processes:
Aqueous immersion bath systems with multilevel ultrasonic- and flood washing
Aqueous chamber washing systems with ultrasonic washing and pressure flooding
High-pressure washing systems (up to 700 bar)
---
Cleanliness requirements:
Particle size: ≤ 200µm
Residual dirt ≤ 0,5 mg / piece
High-pressure washing systems (up to 700 bar)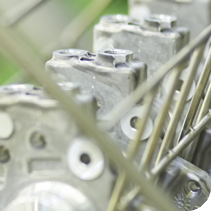 At our plant for the residual dirt analysis the evaluation of technical cleanliness is done by particle size (pattern perception) and particle weight (weigh out), according to VDA19.
Assembly
We offer services in the fields of pre- and final assembly and we are willing to work with you to develop new and individual solutions for your systems:
Process-reliable linking of the assembly steps
Screwing including securing by glueing e.g. axial diagonal needle bearings for the mechanical- and plant engineering
Assembly of axial bearings with automated axial clearance testing for the automobile industry
Force-stroke controlled press-in operation of e.g. bearing races
Automatic greasing with batchers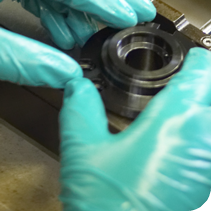 In addition, we have gained experience in leak testing of mounted assembly units as well as in attaching of all types of required product marking (needle stamping, laser marking) including the according data systems in order to assure the retraceability of products.